One Sunday, as I was wearing one of the dresses that I made last year, I got to thinking that maybe the dress would look better if the full skirt were held out a little. This led me to thinking about petticoats. When I was a little girl, we had a suitcase filled with "dress-ups". In that suitcase was a petticoat. I was a child in the 1950's when the older girls and women had tiny waists and full skirts.  Even as a little girl,  I did not have a tiny waist, and I can't even begin to imagine how uncomfortable it would have been to wear the undergarments that made waists so tiny, but it did make a pretty silhouette.
There actually were patterns home sewers could use to make their own petticoats.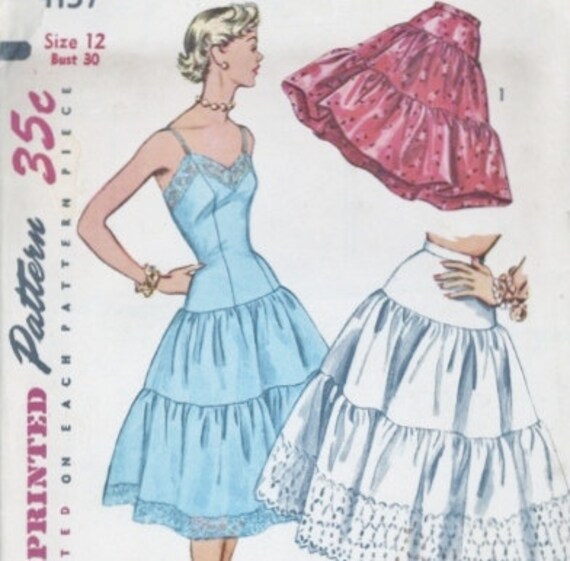 I searched online and found some petticoat tutorials:  Burda Style ; This Blog is Not for You ; Sugardale
My petticoat was sort of a combination of ideas from the tutorials.  Here is what I did.
The first petticoat was VERY full. I made 4 tiers. The bottom tier was 2 pieces seamed together each 6″ x 4 yards. The next tier up was 5.75″x 2.5 yards, again two pieces. The third tier up was 5.5″ x 1.5 yards (2 pieces) and the waist was 5.5″ x 1 yard (2 pieces). Included were .5″ seam allowances. I was too cheap to buy the yards and yards of ribbon suggested to hem the bottom tier and to cover the seams joining the other tiers. I just narrow hemmed the bottom; serged the seams and top-stitched them down. It's a petticoat after all! It goes underneath. Rather than using elastic at the waist, I finished the opening edges and used a hook and eye closure on the waistband ribbon.
As I was gathering the 8 yards of fabric for the bottom tier I began to wonder if this would actually work.

But, I thought it might work so I kept sewing the tiers together.
When I finished, I had a very poofy petticoat!
I tried it under the skirt I was making and it was TOO full!. I tried it under my dresses and it was TOO full! So, back to the drawing board I went.
The second petticoat I made was not as gathered. I made it just three tiers instead of four, less yards gathered, and the waist tier is longer.
Here's me in the four tier petticoat.
Wearing dress without the petticoat:

Wearing dress with the less full petticoat:

I've learned a bit about petticoats and dresses. #1. I think you still need a smaller waist and larger bust to get the 1950's silhouette. #2 I think the skirt actually needs to be gathered or pleated at the waist to handle the petticoat.
It was fun sewing the petticoats. But I'm thinking now of another slip that might work better with the dresses. (And maybe I ought lose a few pounds and inches around the waist! Aarghh! Photos are brutal!)